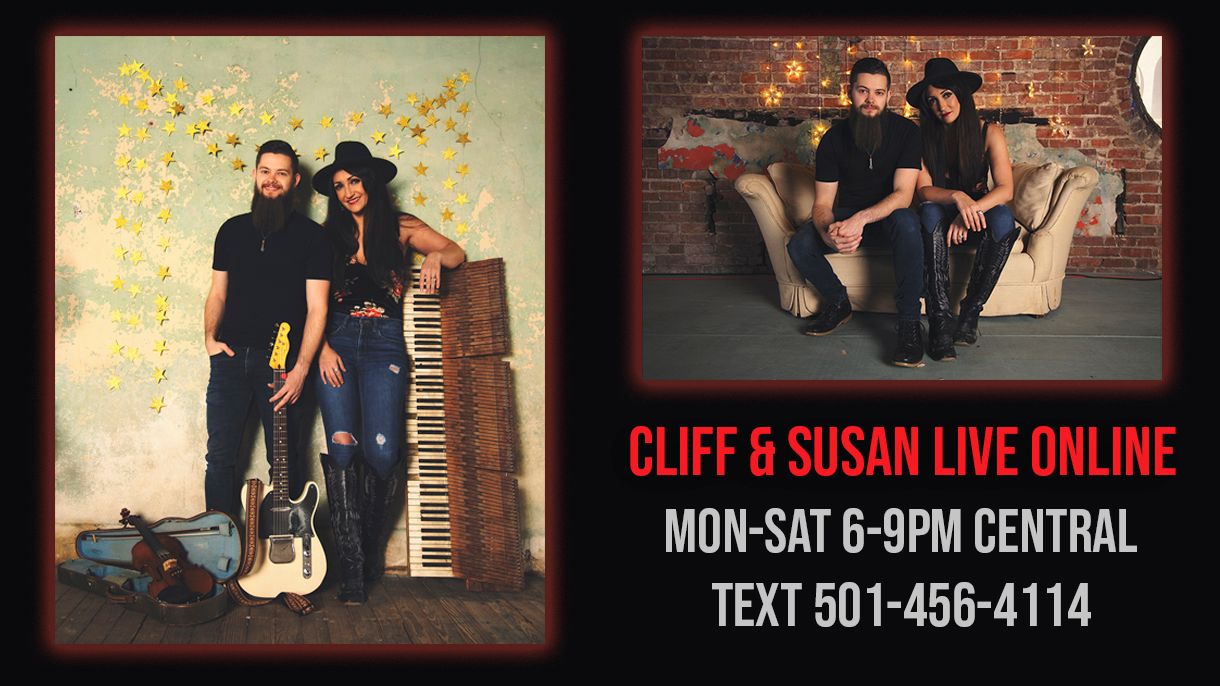 Cliff & Susan stream their kid-friendly show online 6 days a week  
LITTLE ROCK, AR – The Pink Piano Show with Cliff & Susan is a feature at Oaklawn Racing Casino Resort every Friday and Saturday of race season in Hot Springs, Arkansas.  Due the recent developments and COVID-19 related cancellations, they are moving their shows online every Monday through Saturday 6-9pm streaming live from their studio until their shows resume at Oaklawn.
Cliff Prowse and Susan Erwin Prowse are a married international touring duo armed with a piano, fiddle and guitar based in Little Rock, Arkansas.  Their high energy, all request show keeps crowds entertained for over 4 hours.  With over 1,000 songs in their arsenal, they bring a great mix of country, blues, rock, pop and oldies to crowds of all ages. 
"We are all facing tough times and we want to bring much needed entertainment and release by connecting with people all over the world during this difficult time," said duo member Susan Erwin Prowse, co-founder and owner of Big Red Dog Productions. "With our show online we are kid-friendly and love interacting and taking requests. We bring a good mix of music to all ages for a fun, high-energy, interactive show." 
Shows will stream on their Facebook page at www.facebook.com/cliffandsusan every Monday through Saturday from 6-9pm starting Monday, March 16, 2020 until shows resume at Oaklawn Casino.  
They have also formed the Artists Against COVID-19 initiative to help other artists with creating their shows, marketing them and providing resources as it relates to industry, federal and state aid due to income loss.  Visit: www.aristsagainstcovid19.com.  There is also a dedicated Facebook page and Facebook group where Arkansas artists as sharing, promoting and working together.
Cliff & Susan - Bio 
Singer, songwriter, multi-instrumentalist, and producer Cliff Prowse has been producing his own music and other artists for years.  Singer, songwriter, and pianist Susan Erwin Prowse has launched a successful music career now for almost two decades with 2 albums released out of Nashville.   Susan has been performing primarily in high-energy international piano bars for 16 years.   Susan began her music career in 2003 on the stages at Willy D's Dueling Pianobar in the Little Rock Rivermarket District. Cliff joined her 4 years ago and their show skyrocketed with over 200 dates a year!  A typical tour year includes Arkansas, Amsterdam, Santa Barbara, St. Maarten, Norway, Las Vegas, Colorado and more. 
The couple co-founded and own Big Red Dog Productions, a Music Production and Artist Development company located in Little Rock, Arkansas.   Their inaugural Yadaloo Music & Arts Festival in September 2019 won Arkansas's Best New Festival of the Year.  The 2nd annual date is set for Saturday, September 19, 2020 on the banks of the Arkansas River in North Little Rock, AR.  
More information at www.cliffandsusan.live
Contact Susan Erwin Prowse (323) 919-2436 susan@susanerwin.com